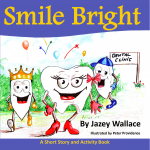 Thanks for contributing to this cause. Pre-schoolers in St. Kitts-Nevis will receive one copy of each book you purchase, as well as a toothbrush, floss, and toothpaste.
About Smile Bright
Molly doesn't feel well. Thank goodness for her friends Harry and Tom who know just what teeth need to get well and stay healthy. Join the friends on an adventurous journey to Dr. All Smiles Dental Clinic. Will the friends get to the dentist's office before Molly feels worse?
Smile Bright written by Jazey Wallace and illustrated by Peter Providence uses a simple and fun story to teach children that dentist visits are not to be feared and dental hygiene is important. Molly the tooth has been hurt as a result of eating too many sweets but she is afraid to go to the dentist. Her friends encourage her and she discovers that visiting the dentist isn't as bad as she thought.
The book includes a fun activity.
Both the author and the illustrator are from St. Vincent and the Grenadines.
The book retails for US$10.95, however, in support of this charitable effort, CaribbeanReads is offering the book at $5.75 per copy.